So this is my "rant" blog about the ONE thing that I am ABSOLUTELY obsessed with. The first thing I look at when I meet a person. The one thing that, in my opinion, could make or break a face. Eyebrows. Note: I said eyebrows plural, not singular...someone please tell Vladimir Uni here...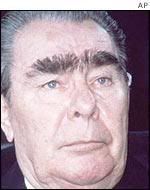 Oh yeah, and while you're at it, can ya tell him that the natural forest look? Will never be in. I guess you should also three way his amigo, Senor Ay WOW...

But be careful, you don't make them and their brows Manorexic, like our friend Twigs here...


Someone forgot the number one party rule; "Never be the first to pass out." He's starting to look like our shim friend...

Hmm...I see a slight family resemblence, wonder if she, er, he, er, it is related to...

That is one pluck away from...

"Oh no she didn't!" Oh yes, I did, Whoops. Yes, I did.

Brows that annoy me the most:
Fat head, skinny lil squiggly tail. Really. You would want THAT on your face? Maybe ya do, but I'm certainly not that kinda girl!
Time to close that gap, girlfriend.
Where's the beginning, where's the end? Your guess is as good as mine!
Because of the browtastic arches, get it? I'm hatin' it! This girl's a dual offender. Also see #2.

I, myself, am always on the quest for the most symmetric set of brows. But if you can't do it on your own, there's help out there...